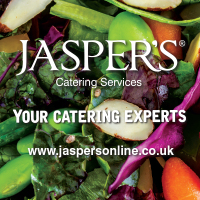 Profile
Your Catering Experts
WE LOVE FOOD, We've always loved food and judging by how much the people of Warrington and St Helens seems to have taken to Jasper's, I think there is more than a chance we may be involved with food for some time yet.

Having run bars and restaurants for years, catering is what we do. We have brought all the knowledge and skills we gained from looking after hundreds of customers and have honed those skills to provide a perfect offer for the offices, businesses and organisations within the Warrnington and St Helens area. We look to make new friends at every turn and have built up a loyal customer base.

With a real passion for customer service that runs throughout the team (I know how much we tend to hear that everywhere we go these days but it's true!) we genuinely live, eat and sleep these values. Our service operates in real-time and allows us to react to even the latest of last minute orders.

About Jasper's Warrington and St Helens :

I love Warrington and St Helens, after growing up in St Helens (please forgive me Wire supporters), I went off to London for 15 years to run bars and restaurants. After a successful time down in the capital, it is lovely to be back home. The two towns are so close together and both quintessentially northern towns: warm, and welcoming.

I love that my business allows me to deal with the general public all day long. The people are so friendly and appreciative of the quality service we provide. This is why we spend a lot of time working in the community: we support Warrington Youth Club whenever possible with free catering, loads of support and fund raising. We are looking to get more and more involved with the amazing contributions they make to the community we live in.
Add rich content via our editing tools
Remove ads from your listing
Appear more prominently in search results