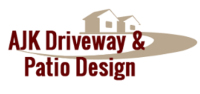 Profile
About Us...
Garden care specialists in Liverpool

Excellent Garden Improvements
Improve the aesthetic appeal of your home with our range of landscaping and gardening work. Get in touch with the experts at AJK Driveway & Patio Design for high-quality services at competitive prices.

Our team consists of Andy, James and Karl and we have over 10 years of experience in the business. We offer a completely personalised service to make sure all your requirements are fulfilled.

Our Services Include

• Driveways and block paving
• Patios
• Fencing
• Landscaping and turfing
• Garden maintenance

Contact AJK Driveway & Patio Design for driveways and fencing installations throughout Liverpool and the surrounding areas.
More Information...
Driveway designs and installations

Long-Lasting Driveways
A quality driveway and paving can change the look of your property and also provide you with extra parking space. Trust the specialists at AJK Driveway & Patio Design to do a fabulous job with your new driveway.

Do not hesitate to discuss your specific requirements with our team. We will work closely with you right from the planning stage, up to the installation to make sure you get the driveway that you desire.

Our Driveway Work Includes
• Driveway design
• Block paving
• Crazy paving
• Driveway restoration and cleaning
• Flags and paving stones
• Gravel work

Beautiful patio designs for your property

Patio Installations And Repairs
Add style and value to your garden with a brand new patio. You can come to the experienced staff at AJK Driveway & Patio Design for stunning patio designs and installation work at very affordable prices.

No matter the size or the complexity of the job, our team of reliable workmen have the skills and the resources necessary to undertake all types of commercial and domestic patio and landscaping work.

Our Comprehensive Work
• Patio design
• Patio installation
• Repairs and upgrades
• Driveway installations
• Flags and natural stonework

Domestic garden fencing installations

Serving Throughout Liverpool
Enhance the appearance of your property with our range of durable and long-lasting fencing installations. Our fences are made from high quality materials which ensure that you get the best possible results every time.

We are based in Liverpool and also serve throughout the neighboring areas. From fence repairs to complete installations for residential properties, you can rely on us for all types of fence installation work.

Benefits Of A High-Quality Fence
• Stylish appearance
• Improves security
• More privacy
• Dampens outside noise
• Adds value to your property

Call or visit our website for more information.
Add rich content via our editing tools
Remove ads from your listing
Appear more prominently in search results