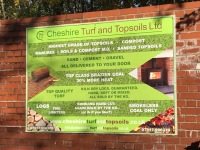 Astonfield Road, Whitehouse Industrial Estate, Runcorn, WA7 3DL (Show me directions) Show Map
Monday to Thursday: 08:00 to 17:00 , Friday: 08:00 to 16:00 , Saturday: 08:00 to 12:00 , Sunday: Closed
Visa, Cash, Mastercard, Contactless
Profile
More Information...
High-quality product
We are extremely proud of the quality of our turf and topsoil in Cheshire!
Supplying only the best produce, we are confident that we can beat local competitors supplying Turf and Topsoil in Cheshire.

Friendly advice & service
Not sure which type of turf or topspoil you require?
We are experts in the business of turf and topsoil therefore more than happy to offer advice on our range of quality turf and topsoil products.

Fast delivery included!
We deliver in Cheshire on a weekly basis, via our unique turf and topsoil delivery rota.
Our turf delivery service ensures you receive your turf and topsoil products quickly from time or order!

Turf and Topsoil for sale in Cheshire
High quality produce, friendly service and great prices here at Cheshire Turf and Topsoil Limited!
All our produce is of a very high grade with an wide range of topsoils, turfs and other products available including... topsoils grade 1 & 2; composted topsoil grade 2; sanded topsoil grade 2 for underlawn dressing; straight compost; turf; bark; stone; sand & more!

Compost
We supply a black mushroom compost good for conditioning your soil and for potting or greenhouse conditioning. Green compost mulch consisting of cuttings and hedge cuttings for base compost ready for your top soil, this will rot down over time ready for turning over. We also supply a organic CTT Environmentally friendly peat free soil conditioner ideal for any use. All our compost is matured for a minimum of 5 to 7 months.

Call or visit our website for more information.
About Us...
Cheshire Turf and Top was designed to give people a choice in what they purchase in the soils and heating market. All our products are top grade AAA Topsoil and compost, kiln dried logs, kindling, smokeless fuels and other products to bark, sand and stone. We also consider buying any timber and reclaimed items.

We don't promise always to be the cheapest but our products are the best. My Dad was a gunner on a Merchant Ship in WW2, he was a stickler for quality and he had a saying 'you buy cheap you buy twice' well don't buy twice buy from us quality guaranteed.
Add rich content via our editing tools
Remove ads from your listing
Appear more prominently in search results